Bracing:
Since I'm doing the full-length floor pans on both sides, I figured it'd be good to put some bracing in the car to help keep everything in place and lined up while it's cut up. I made door braces using just flat stock; I think it was 12 gauge 1.25in x 4ft. I wanted to allow the doors to close, so I welded it on the inside of the car instead of in the door jambs. It doesn't show in the picture too well, but the front part goes to the inner rocker cover in front of the door.
I made a side to side brace in the rear seat area using 1" tube. Then I added a couple of diagonals out of the same type of tube down to the tunnel. None of it is particularly nice to look at, but it seems sturdy.
Patch:
I also made a quick patch to cover a hole cut in the shock towers. It didn't come out too awful, but it definitely could be better. I'll work on cleaning it up more at some point. Good thing I have two more I should do, and those are on the other side of the shock tower, between the shock tower and the firewall… fun.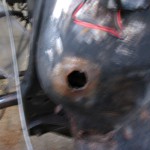 Fuel Tank:
With the rear torque boxes and also wanting to place a few extra welds on the rear part of the frame rail, I went ahead and pulled the gas tank out. Not very eventful or interesting, just leaves a big hole in the trunk.